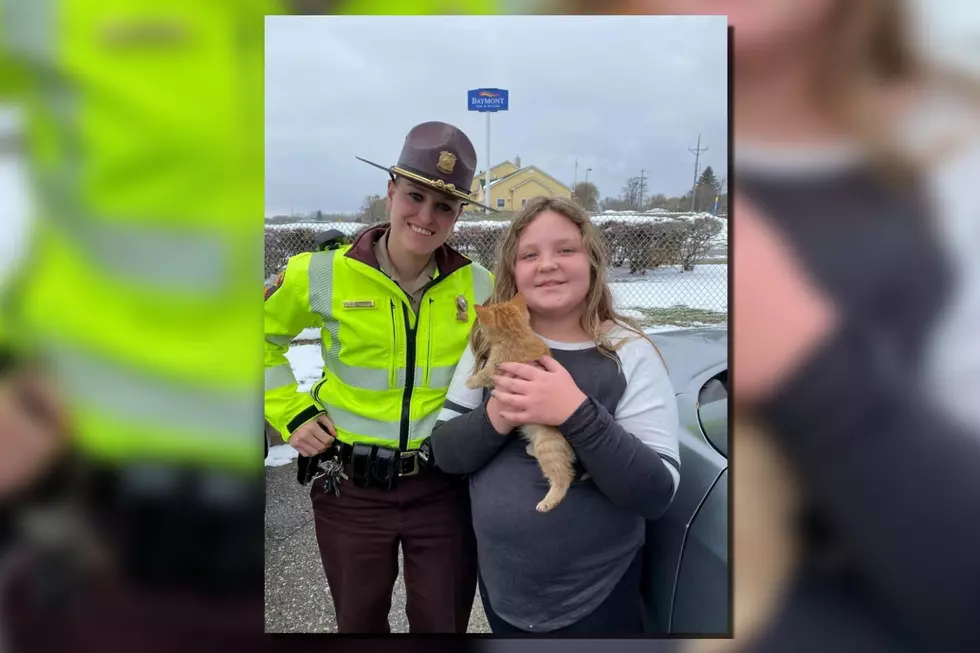 VIRAL PICS: Minnesota State Patrol Trooper Rescues Little Leo
Minnesota State Police Trooper Ellissa Schmidt with Reese Webber and Leo the Crime Fighting Kitty! (Credit: MN State Police)
Enter your number to get our free mobile app
The Minnesota State Patrol's Facebook post featuring Little Leo and Trooper Ellissa Schmidt went viral and I'm here for every second of it! According to the State Patrol...
Meet Leo.
Little Leo probably blew through a few of his nine lives sitting in the middle of Highway 28 in Ward Springs on Oct. 24.
Now meet Trooper Ellissa Schmidt.
She patrols Highway 28. It's her job to keep the road and those on it safe. Lucky for Leo, that includes cats.
Leo was cold and lost with nowhere to go. Trooper Schmidt scooped him up and brought him inside her squad to warm up. As you can see, Leo the Snuggler was thrilled.
Trooper Schmidt asked her social media followers if anyone wanted to adopt a kitten. Turns out Reese Webber and her family were in the market.
Now Leo has a warm and happy home. And, by our estimation, seven of his nine lives remaining.
Huge thanks to Trooper Schmidt for spotting Leo and not just saving a Crime Fighting Kitty's life, but finding a home for the feline member of the Minnesota State Patrol.
Listen to James Rabe and Jessica Williams Weekday from 6 - 10 AM on Y-105 FM
You think the last few days have been cold?
BRRRR: The 15 Coldest Cities in America
More From Quick Country 96.5